Details: SAKEOH Event at Mar 2014.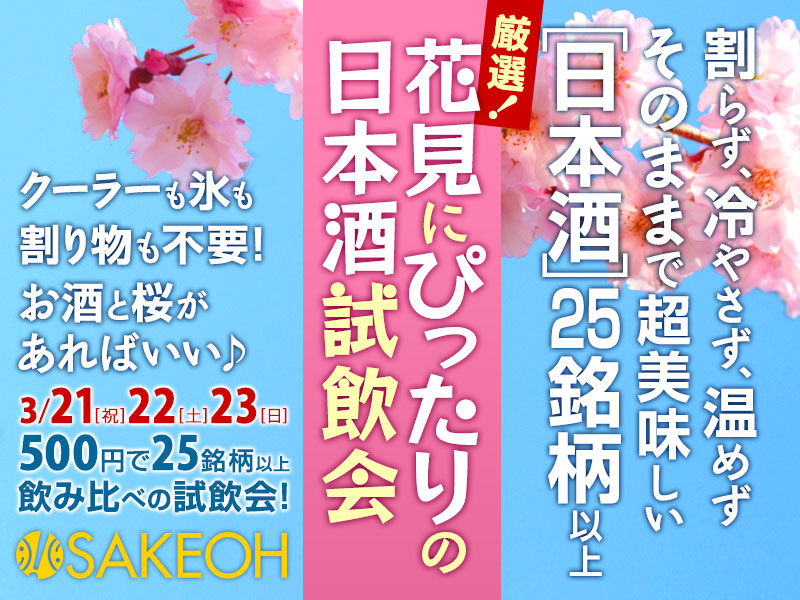 Title:
Tasting Event to know The best SAKE for Cherry Blossom Viewing
Date / 3days:21th to 23th Mar 2014.(Fri to SUN)
Number of Tasting samples / at least 25 samples and More
Schedule: 13:00〜17:00
Place / in SAKEOH"酒逢" store
Address / 3-19-10, Kanamachi, Katsushika-ku, TOKYO
Phone / 03-5876-6595
Fee / JPY500 (pay at entrance)
Theme:
Let's join the event to make Cherry Blossom Viewing better.
Traditional riquor in Japan: NIHONSHU
NIHONSHU(=SAKE)is the liquor which relate it's country's name in it's name. It is said that the origin of sake was over 2000 years ago in Japan.The word "KAMOSU"(醸す=Brew) is originated from KAMU(噛む=bite) when we brew SAKE by using Enzyme of saliva as a primitive manufacturing process at ancient days, just a estimate.
*Now, all sake makers do NOT use "Enzyme of saliva", just in case.
Symbol of Japanese spirituality:SAKURA
On the other hands, SAKURA(Cherry Blossom) is national flower of Japan.For a long time, SAKURA blooming which tells coming of Spring,have been special present as a sign for begging agricultual work. It is said that SAKURA which fall fleetingly and gracefully after beautiful blooming just for a moment, is the symbol of Japanese spirituality. As a fact, when we see SAKURA blooming, I feel some kind of "Special Feeling".
Anyway, we;Japanese,really love both,Sake & SAKURA.
It might be Amazing Experience: Delicous SAKE under beautiful Cherry Blossom, but...
If you are in Japan now, and if you are interested in Japanese culture, I strongly recommend to have Cherry Blossom Viewing with "delicous" SAKE. It will be Amazing Experience in Japan. But the SAKE you drink under Cherry blossom should be, have to be "delicous".
Why I emphasize "deliciou", such many times, because SAKE has wide variety of taste, and has big difference in quality eventhough in similar price line. Regarding this point, please refer below text that I wrote in my blog article.
Difficulty to know about SAKE for non-Japanese speaker.
we feel regret that there is little difficulty to know about Japanese sake to non-Japanese speaker at this moment, because almost all of information is written in Japanese, even though many foreiners are interested in Japanese SAKE and Food Culture.This is the reason why we opened this FB page. Incase you can't understand "Chinese Character" in Japanese, difficulty get bigger.For example, when your friend ask you to buy "SAKE" as souvenirs, and tell you a brand name and the taste was "sweet" like white wine. At sake specialty store, you will be seeing many kinds of bottles with same brand logo, but different label color. If the color of label is different, the taste is totally different even though same brand, because manufacturing process is not same. You will be needed to understand "Chinese Character", and recognize accurately not only to "brand logo", but also "type of manufacturing process" written in beside of brand logo. Otherwise, you might choose "bitter" one, as souvenirs to your friend. (SAKE has 8 types of manufacturing type, and 4 type of flavor)
As mentioned in Quote, to find out SAKE what you want is not easy, especially for foreiners, eventhough for Japanese, it is not easy mission. When you say that you need to have "Delicious SAKE" difficulty get bigger.
Typical difficulties that you will face at SAKE store
Wide variety of flavour based on manufactuaring process eventhough same Brand
Almost all of Label is written in "Chinese Character"
Very hard to find out the store staff who speaks forein languege.
Staff no way to know what kind of taste you feel "delicious", even if you find out the staff who speaks your languege Miraculously.
Best solution is to visit "SAKEOH"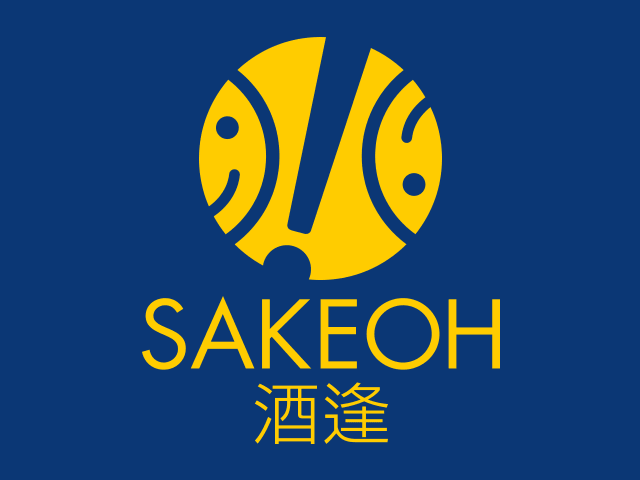 However, no need to give up. We believe, We;"SAKEOH", and our events is the best place and chance to know about SAKE for non-Japanese speaker. Because, we always have tasting.You can have SAKE Experiece directly, not through the word, logic. So, there is no need to study Japanse languege, Chinese Characters, complicated manufacturing process of SAKE. If you feel "deliciou" when you have tasting, that is the sake you need.
And more, Shop owner who has qualification of "SAKE ADVISER" speaks English and Chinese, will help you to choose your best sake.
Looking forward to see you at "SAKEOH酒逢" soon.
This is an article of announcement for "Tasting Event at Mar 21th to 23th". We are open at thu-sun(11:00-21:00) in every week.
please feel free to contact us to 03-5876-6595, if you have any inquiry.
We will keep providing information, not only about SAKEOH酒逢's activities, but also about "How to enjoy SAKE", "Japanese SAKE Culture", or "Japanese Food Culture" etc...
We are glad if you have further interest and understanding though our information, and if you know much about sake through your "SAKE EXPERIENCE" at our store. Please feel free to visit us, and enjoy "SAKE EXPERIENCE"!