Welcome!
If you reach here to find "Japanese food restaurant with delicious SAKE" or "SAKE bar", here is wrong place. please continue web search.
If your reach here to find "the place to know & enjoy sake", congratulations! Your finally find out right place. Firstly, we really appreciate for your kind attentin for us.
Do you enjoy "SAKE" while staying in Japan?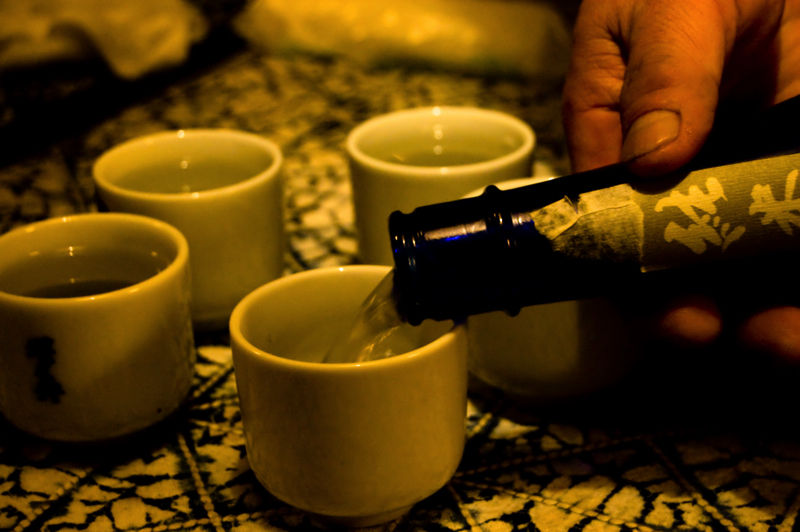 Difference to "drink" and to "know"
We think, if you want to drink delicious SAKE, it is very easy now. Go "sake bar" around your office, you can see many many kinds of delicious sake on list. You just order one from the list by intuition, that's it.
However, if you want to know & enjoy SAKE more, that's another story. We hope you not just to drink, but to know about SAKE, because SAKE is worth to know as the essense of Japanse food culuture.
Difficultie: SAKE for foreiners
For example..., it is very difficult to explain the difference of each SAKE when your old friends come Japan and ask you. The "terminology" about SAKE is based on manufacturing process or Japanese tradition, too complicated for foreiners.
Moreover, it is really difficult to select suitable deliciou SAKE that match your dinner or party from the market shelf or web site by yourself. Too many SAKE brands and items in market are mixture of good and bad.
If, fortunally, you have good frind who knows about SAKE very well, and speak your languege, and always have plenty of time to help you, that's OK. But actually, no one have such friend.
As last resort, if you ask staff in SAKE store to recomend one that fit for your request, enough help can not be expected because of Language barriers.
But..., we can help you.
Why we are the best place to get to know & enjoy SAKE for foreiners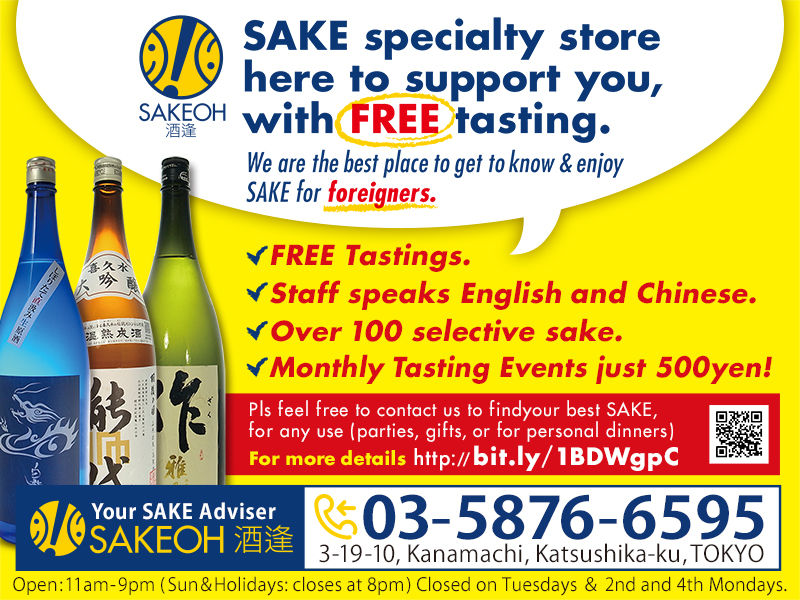 summarize briefly...,
1. Directly communicate with you
In English & Chinese, staff who have qualification of "SAKE ADVISER" can communicate with you by talk, mail, phone or fax directly.
2. Over 100 kinds of selective SAKE
Over 100 kinds of selective delicious SAKE, both humble and famous, standard and seasonal, from Hokkaido(北海道) to Kyuushu(九州), are alway in store.
3. FREE Tasting at store
You can have tasting for FREE when you visit our store. You are abel to know "what kind of SAKE do you like" by comparing it's taste, not by checking the Label written in complicated Chinese Characters.
4. Monthly Tasting Events just 500yen
We take place "Monthely Tasting Events" with seasonal theme. We believe you can find the way to enjoy in changin seasons in Japan if you join.
Specifically, what we can do for you using above 4 factors?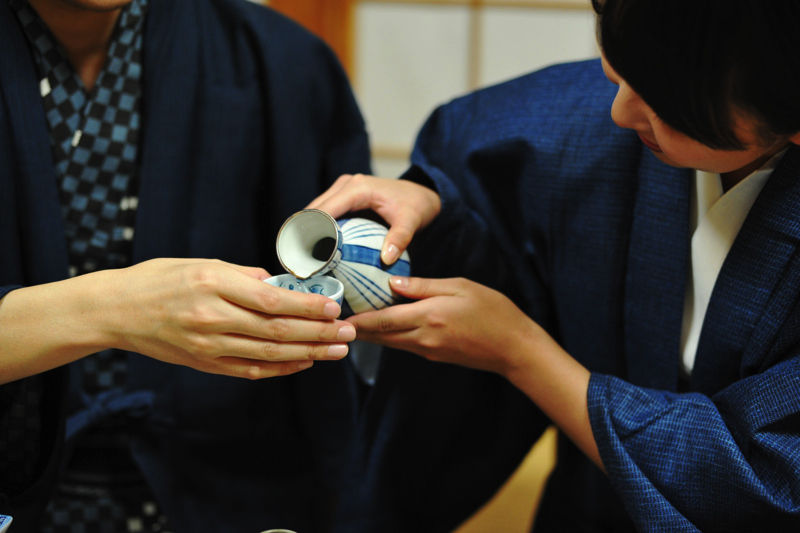 We can be your "Private Secretary" of SAKE
SAKE for Dinner, parties, gift...
Please tell us your all detailed request.
Time, Place, Occasion
What kind of dish will you have?
How many people at the party?
Generation or Gender of participants at the party
As aperitif? or drinking with meal?
For whom you send the gift?
For any use, plese mail us (info@sakeoh.com), with your all detailed request.
We will tell you the best recommendation.
Please believe us, we are professional.
You can order SAKE to our onlin shopping site, and if, incase, we have no suitable SAKE fit for your request in our store stock, we will tell you the URL or the place of retailstore that you can buy.
We serve you as your "Private Secretary" of SAKE to the end.
We can be your "Teacher" of SAKE
When you visit us, staff who have qualification of "SAKE ADVISER" explain to you about SAKE and SAKE culture with having FREE Tasting.
Language barriers to know SAKE:"Chinese Character"
We feel regret that there is difficulty to know about SAKE for non-Japanese speaker. As our opinion, the biggest obstacle for foreiners to know sake is "The terminology written in Chinese Character on LABEL" like "Daiginjo(大吟醸)", "Junmaiginjo(純米吟醸)" or "Honjozo(本醸造)".
These words are very important and basic information to know the tendency of SAKE taste, but almost all of SAKE write only in Chinese Character on Label following Japanese regulation.
Thus, at this moment, it is almost impossible to know sake for foreiner who can not read "Chinese Character" in Japanese.
Lecture with Tasting : The best way to know SAKE for "non-Japanese speaker"
However, if you visit us, all problem will be solved. Because we are always provide FREE Tasting at our store.
At SAKEOH酒逢, You can understand SAKE, not by the "words", but by the Taste. There is no need to read "Chinese Character" on label, you just compare each taste, feel the difference, and you can get to know "What type of SAKE you prefer".
After you find your favorite taste, we will explain "Why this sake's taste is like this", "The reason for the difference of the taste", "manufacturing process is what like" etc...
We believe that this is the best way to know about SAKE for "non-Japanese speaker".
Tasting Events : Feel and enjoy the change of seasons through SAKE
As you know, Japanese people value the four seasons, love the food in season. For example, at New Year's Holidays, we eat "OSECHI(おせち料理)", in cold season, we love to eat "hot pot cooking(鍋料理)". Then, SAKE also have seasonality following change of season and food.
As we mentioned above, we have "Tasting Events" in each single month with seasonal theme, like "Delicious SAKE for New years day (at Dec)", "Delicious SAKE when you drink it well-chilled on summer (at Jul)" etc...
Participation fee is just 500yen, you can enjoy to comopare more than 20, 30 kinds of SAKE.
Latest event was "For choosing the gift for Respect-for-the-Aged Day Holiday (at Sep)", that was 10th time of our events.
We believe that you are able not just to "know", but also to "enjoy" SAKE in each single season in Japan, if you join our Tasting Events.
Are you interested in us?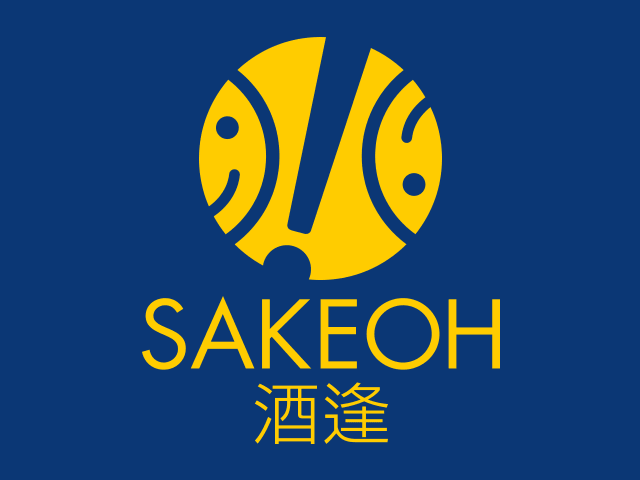 SAKEOH酒逢's Concept: " Surprise & Joy through SAKE EXPERIENCE"
We are confident that SAKE is enough delicious liqure and highly sophisticated culture worth to be known more and more people. We hope that we can help you to know & enjoy SAKE.
What "SAKEOH酒逢" means?
"酒"=Liquor, "逢"=meet.
We keep trying to be "The best place to meet SAKE" for everyone all over the world.
What do the LOGO present?
The LOGO present our concept;" Surprise & Joy by SAKE EXPERIENCE" that various people feel surprise(!), then feel joy(smile), when he find out his best SAKE.
Please stay tuned to us!
We are glad if you have further understanding though our information, and if you know much about sake through "SAKE EXPERIENCE" at our store.
Information
Store
Bigger map
Address:3-19-10, Kanamachi, Katsushika-ku, TOKYO
The closest station: Kanamachi station (Chiyoda line & Keisei Line)
Closed on Tuesday & 2nd & 4th Mondays.
TEL: 03-5876-6595
FAX: 03-5876-6596
Web site & SNS
Blog

Official Web site

SNS



Contact us
Mail: info@sakeoh.com

TEL: 03-5876-6595

FAX: 03-5876-6596
Online shopping site
Online shopping site just opened at begging of Oct.

http://shop-sakeoh.com
SAKE specialty online shopping site:SAKEOH